DISRUPTED BOOKINGS
How to cancel ticketed booking when they're
eligible for a future travel credit (voucher)
Note: if you have partially used tickets (passengers have travelled one of more sectors from their ticket) or flights that have passenger no-shows, this guide should not be followed. Please contact Flights Support.
Creating/accepting a travel credit
It is essential that you consult the airline policy and fare rules to check that your booking meets the criteria for using towards a travel credit before cancelling it.
Login into your original booking online via your Lime, Aviate or Virgin Atlantic Flightstore and open up your affected booking

Of the disrupted booking(s), make note of the following,which you'll need when you come to redeem the value towards the passenger's new booking:
original PNR

live e-ticket number(s)

passenger name(s) and DOB(s)
Click the 'Disruption Cancellation' button in the 'Display Booking' screen within the booking, which removes the original sectors in the booking to avoid a no-show, whilst keeping the e-ticket for when you come to redeem your travel credit
Redeeming a travel credit
This method is suitable to use when you've previously followed the method for 'creating/accepting a travel credit', and your customer is ready to proceed with new travel plans or would like a quote for potential new travel plans.
1. Login in to the system in which you booked your original tickets, via Lime, Aviate or Virgin Atlantic Flightstore
2. Create a new booking in line with the airline policy's date and destination requirements
3. With your correct itinerary chosen and passenger information added correctly, click the red 'Disruption Booking' button next to 'Pay & Ticket'

4. A pop-up box will appear requesting the ticket numbers to be added to each passenger.
The system requires the full 13 digit ticket number without the hyphen '-'.
Ensure that the correct ticket number is added to the relevant passenger as the system is validating each ticket number against the attached passengers in the GDS.
Once the ticket numbers are added to the attached passengers click 'Book – no deposit' on the pop- up box.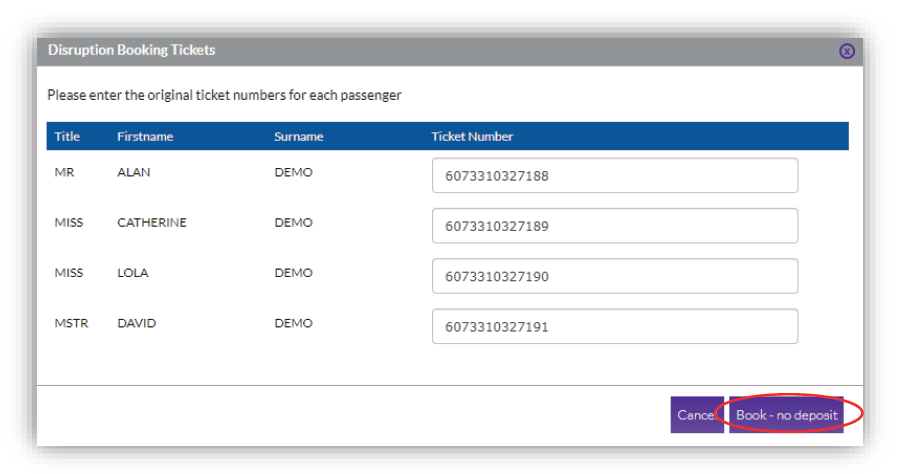 5. The disruption booking has now been created with the tickets of the original PNR attached to the passengers
As airline policies can change at any given time, we recommend you check the policy before issuing tickets on your new booking.
6. When ready to ticket, use the 'Request Price & Ticket' button on the 'display booking'

At this point, the fares and taxes on your new booking will update and advise whether any additional costs are due once the credit from the Travel Credit has been accounted for.
When reviewing bookings in your account, you can differentiate a booking that has used a travel credit against it via yellow information bar, stating: 'This is a Covid-19 Disruption Booking that is linked to previous tickets for these passengers affected by the disruption'